Arcady Luxury Cruise offers 5 star day cruise in Halong Bay with a unique & special itinerary
Arcady Luxury Day Cruise is launched in December 2021 to serve the return of international tourists to Vietnam in 2022. Known as one of the first yachts to provide 5-star service on Halong Bay to tourist during the day, in order to bring more advanced experiences than previous traditional cruises.
Designed on an area of more than 200 square meters of each floor, the wood-paneled interior creates a cozy and elegant feeling.
The restaurant is spacious with 2 high-class buffet counters, airy, ensuring private space when guests enjoy meals and relax with beautiful scenery on Ha Long Bay.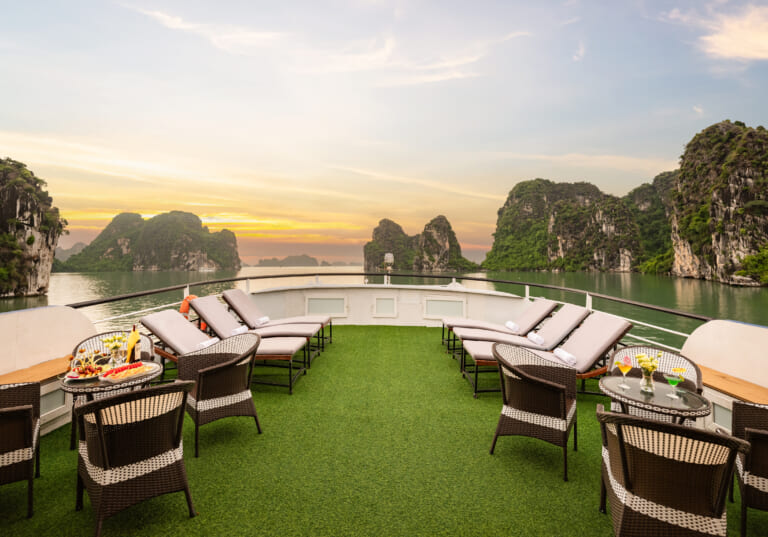 The 3rd floor is designed for amusement and sightseeing area with a height of 12 meters above the sea, this is definitely a place that will bring a wide and panoramic view of Ha Long Bay, also where you will fully witness the beautiful moments of sunset and sharing memorable photos of your trip to friends and others.
With a team of professional, enthusiastic and friendly staff serving during the cruise, it will definitely bring different emotions to your one-day journey to visit Ha Long Bay.
None-refundable. Amendment or modification is subject to the cruise availability 
Stay period: Until 31/12/2023
Booking time: From 0 to 15 days to the departure
Discount amount: 20% – 25% Off
Tourists visit Halong often choose an overnight cruise, but for those who do not have much time and conditions to explore everything, a one-day Halong cruise package is the best choice . And the biggest advantage of the day cruise is that you can both save time, save expense and still be able to visit
None-refundable. Amendment or modification is subject to the cruise availability 
Stay period: Until 31/12/2024
Booking time: Aleast 30 days before the departure
Discount amount: 25% – 30% Off
Tourists visit Halong often choose an overnight cruise, but for those who do not have much time and conditions to explore everything, a one-day Halong cruise package is the best choice . And the biggest advantage of the day cruise is that you can both save time, save expense and still be able to visit