Dau Go is a big cave with an enormous entrance, at 17 meters wide and 12 meters high. It sits 27 meters above sea level and was formed during the Pleistocene era 2 million years ago. Today it remains in perfect condition, exhibiting an ancient beauty that is rarely seen on our planet any more.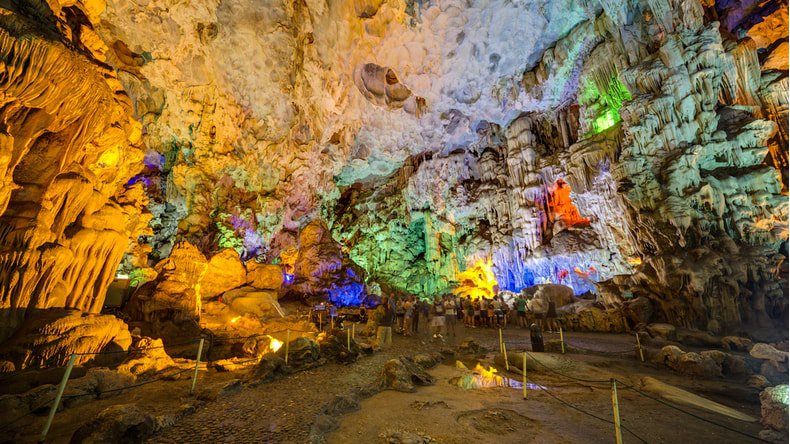 Dau Go Cave
The name Dau Go can be translated as 'Wooden Head' and there are three different stories as to where that name came from.
The first story is a historic one. During the war against the Nguyen invaders in the 13th century, soldiers of the Tran Dynasty put wooden spears in the river Bach Dang (Yen Hung) as a trap to defeat enemy soldiers. Because the 'wooden heads' of the spears the cave was called Dau Go to commemorate their victory.
In the second theory it's been said that during stormy days fishermen would take shelter on Dau Go island. This is due to the fact that the island is bow shaped right in front of the entrance of the cave, which gives fishermen good shelter. After the storms the boats had to be repaired and in the process the fishermen left behind a lot of wood. This wood would be found at the head of the cave, hence the name 'Wooden Cave'.
The last story is the most straightforward of the three. It says that from a distance the cave looks like a giant wooden tree, that's why the locals began to call it 'Wooden Head' cave.