Mesmerizing Halong Bay needs almost no introduction as a wonderful destination with spectacular scenery and an abundance of things to do. The vibrating Halong city itself also hosts a number of features to discover.
In addition to exploring Halong Bay and Halong city, you can also hop over to neighboring areas and enjoy different aspects of local life. These activities can bring you once-of-a-lifetime experiences. Plan your trip with our bucket list of 12 things must do in Halong Bay below.
---
1. Discover marvelous caves
---
Cave exploring is a must-do activity on Halong Bay. Thanks to unique geological and archeological values, the amazing cave system on Halong Bay dating back thousands of years ago become a signature for any first-timers.
Caves and grottoes have been formed with intricate stalactites and stalagmites and winding, mysterious chambers. Some notable giant and beautiful caves are Surprise Cave, Thien Cung Cave, and Luon Cave on Halong Bay, Dark and Bright Cave on Lan Ha Bay, and Thien Canh Son Cave on Bai Tu Long Bay. Those caves are ideally located on prominent islands with easy access by tender boats and thus suitable for both adults and children to visit.
---
2. Visit ancient fishing villages and delve deeper into fishermen's daily lives
---
Halong Bay is home to a number of thousand-year-old rustic floating villages with fishing as the main livelihood. Among those, Cua Van floating village is the largest and oldest one on Halong Bay. Coming there, you can have a glimpse of colorful houseboats and rafts sitting next to each other. There are also chances to meet local people and get to know their daily lives as well as work tasks.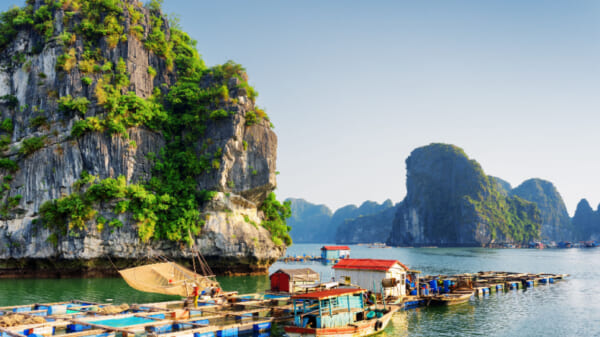 Besides, Viet Hai fishing village is also a promising destination where you can experience a lot of activities such as cycling, trekking, boat paddling, and swimming.
---
3. Take a seaplane tour
---
Hai Au aviation company provides one of the most exciting experiences for tourists on Halong Bay flying over the bay on a seaplane.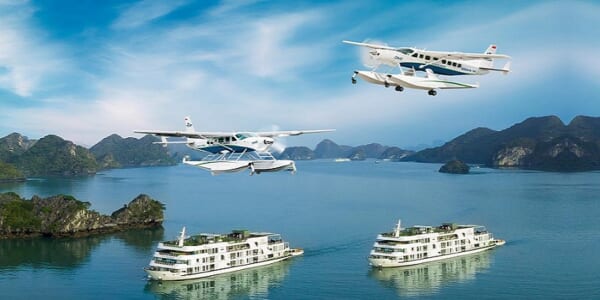 This kind of tour is a bit expensive but worth trying, especially during sunny days with clear vision. Each flight lasts 25 minutes. You will be able to contemplate the mesmerizing beauty of Halong Bay from a low altitude of 300 to 150 meters and take stunning photos. There are a few scheduled flights per day and you can book this service through Hai Au aviation or travel agents.
---
4. Go kayaking
---
Kayaking is a typical activity included in any traveler's bucket list while visiting Halong Bay. This has been by far the best way to admire the bay's beauty at a close distance and in a relaxing way.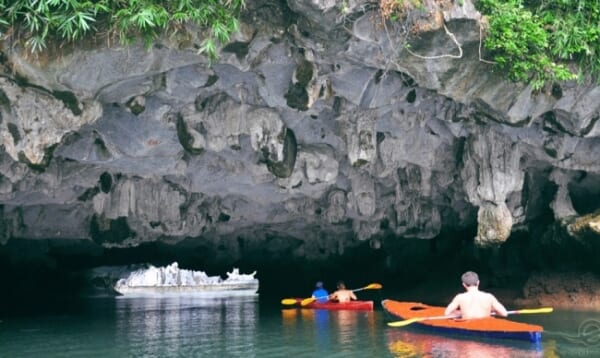 You and your partner can row a kayak independently around famous kayaking areas spots like Luon cave, Vung Vieng fishing village, Tung Sau pearl farm, Cong Do island, Ba Trai Dao area, Ao Ech area, and so on. Almost all-day and overnight cruises have this activity in the itinerary. Alternatively, you can leisurely sit on a bamboo boat rowed by a local and enjoy the bay's view. The best time for kayaking is from March to June and October to December when the weather is predictable without cancelations due to storms and heavy rains.
---
5. Stay overnight on a cruise ship
---
A trip to Halong Bay cannot be completed without its most fascinating activity which is sleeping on a cruise. You can choose either 1 night or 2 nights onboard.
Apart from an indulgent night's sleep, an overnight cruise offers you a lot of fun-filled night entertainment such as playing board games, night squid fishing, singing karaoke, watching movie night, and so on. In the early morning, there is a tai chi or yoga session on deck before breakfast.
---
6. Take a day cruise
---
Embarking on a day cruise is a great option if you are pressed for time but still want to capture the splendor of Halong Bay. Day cruises on Halong Bay are numerous with different traveling time (4 – 8 hours). Those cruises follow 5 main routes to famous tourist sites on Halong Bay, Lan Ha Bay, and Bai Tu Long Bay. Route 2 to Thien Cung cave – Dau Go – Dinh Huong – Fighting Cock islet – Sung Sot cave – Titop island is the most popular one.
Highly recommended day cruises on Halong Bay that you should take into consideration are Jade Sails cruise, Genesis Day cruise, Estella Premium Day cruise, Paradise Luxury Day cruise, and so on.
---
7. Explore Sun World Halong Park
---
Sun World Halong Park is renowned as a world-class amusement complex in northern Vietnam where regardless of your preferences, you will definitely get entertained. The park can be visited year-round but best to come between May to September.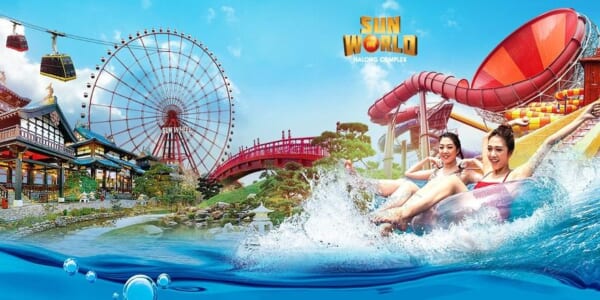 The park is located in the city center, a short walk from the Bai Chay area. It includes three major areas: Queen Cable Car & Mystic Mountain, Dragon Park, and Typhoon Water Park. Here you can engage in multiple water-based activities, thrilling games with distinct difficulty levels, and extreme feelings such as Mystery Journey, Cyclone Dance, or Reptile Army. The ticket prices vary from 750.000 – VND 550.000 full combo per adult or child above 1.3m and child below 1.3m respectively.
---
8. Wander around Halong night market
---
One of the best ways to soak up the local atmosphere is to take a leisure walk around the Halong night market. This is a complex of over 300 stalls where you can find almost everything from clothes, and souvenirs to local dishes. The best part of this market is perhaps to sample local specialties namely grilled chopped squid, horseshoe crab, and nodding cake.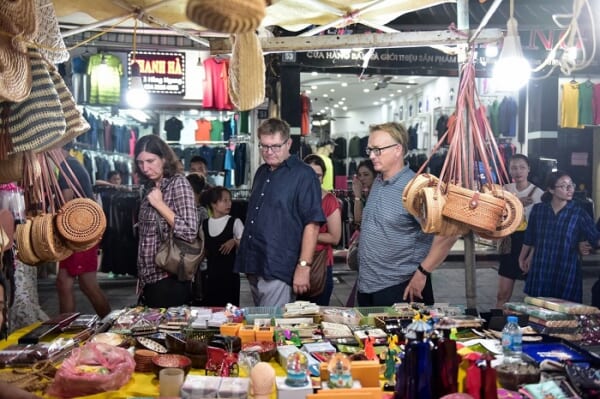 The night market boasts a vibrant atmosphere and is quite safe but you should still pay attention to personal properties. Besides, do not forget to bargain to get better prices for items.
---
9. Visit Quang Ninh Museum
---
Quang Ninh museum is a favorite place of interest if you are a culture vulture or do not enjoy outdoor activities. The museum boasts a unique black exterior modeled after coal, a unique feature of Quang Ninh province.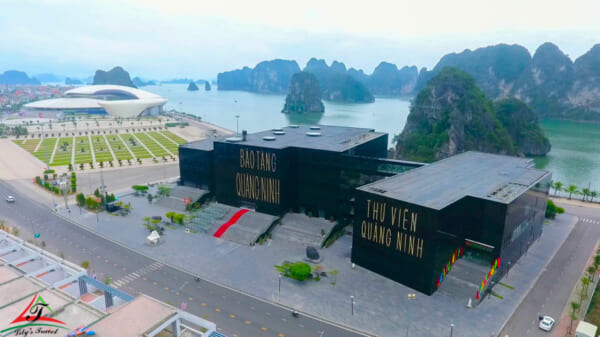 The museum comprises three floors. The ground floor showcases exhibitions of the sea and nature. The second floor is home to artifacts and archeological objects and the third floor is for historical values of the coal mining industry. The museum opens from 8 am to 5 pm Tuesday to Sunday. The price ticket is only VND 40.000/ adult and VND 10.000/ child.
---
10. Check in Bai Chay bridge
---
The cable-stayed Bai Chay bridge is the symbol of the modernity and fast-paced development of Halong city and Quang Ninh province. Thus, you should not miss a chance to take stunning photos of this bridge when the lights turn on.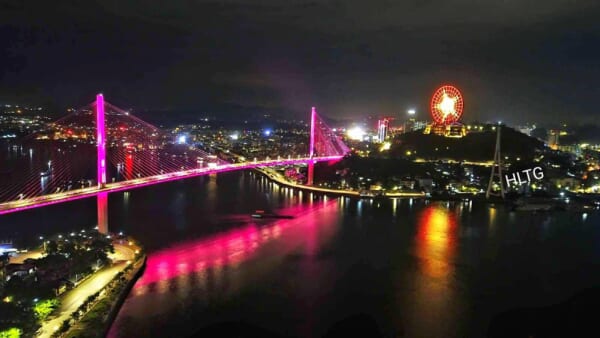 The bridge is measured 435m long connecting Hon Gai and Bai Chay areas on Highway 18. With its impressive design, Bai Chay bridge is a well-known check-in spot for tourists and local people there.
---
11. Visit the Complex of Yen Tu Monuments and Landscapes
---
If you seek integration of history, religion, and nature, the ultimate option is the Complex of Yen Tu Monuments and Landscapes. The site is also one of the most famous religious attractions of Vietnam. Within the complex, there are a number of major attractions namely Truc Lam Yen Tu Zen Monastery, Dong Pagoda, Giai Oan Spring, Yen Tu national forest, and other Buddhist sanctuaries. Additionally, Yen Tu mountain features a primary destination for hikers to trek to the top and admire panoramic landscapes.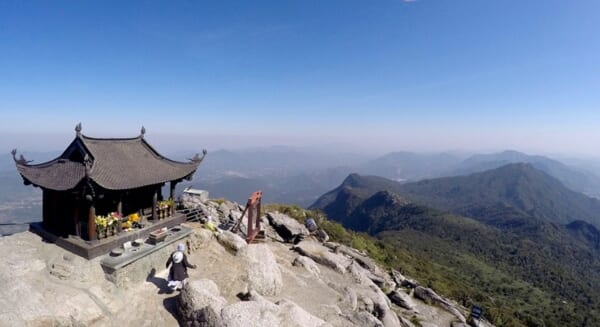 ---
12. Climb Bai Tho mountain
---
Climbing Bai Tho mountain, the mountain of poetry and mystery, you will be overwhelmed by mind-blowing scenery. The peak of Bai Tho mountain is in fact a prominent attraction for hikers to enjoy the city's panoramic views. With a height of 200 meters, you can easily reach the peak within one hour. Make sure you carry essential items for mountain climbing and a good camera to capture the incredible views of Halong Bay.