Boating to see Luon cave with interesting activities for those who love to explore. If you are planning to visit and explore Luon cave, please refer to the super detailed experiences below to have the most complete trip.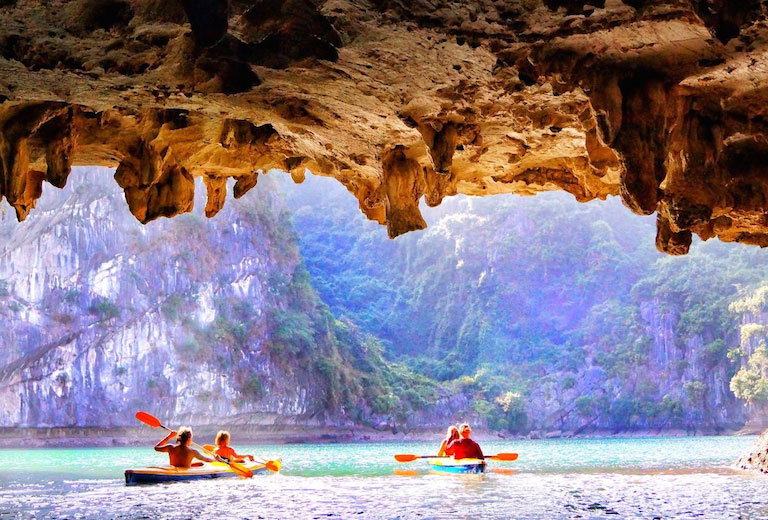 Where is Luon Cave?
Luon Cave is one of the attractions with poetic and peaceful natural scenery that is attracting a large number of young people who love to explore.
Located on Bo Hon island, in the south of Ha Long Bay, it only takes you about 20 minutes (14km) to travel from Tuan Chau or Bai Chay island to Luon cave.
Unlike other caves, to move to visit Luon cave in Quang Ninh, you cannot walk but must travel by boat because this cave has a flooded floor and opens to the sea.
Located in a very special location, Luon Cave is surrounded by charming natural scenery with clouds, mountains and green trees. The archway of the cave with a natural shape of about 60m is always reflected in the cool blue sea water and the lovely boats passing by, creating a beautiful painting.
Luon cave travel experience
When should you go to Luon cave?
To have the most complete experience in the exploration of Luon Cave and Ha Long Bay, choosing the right time to visit is extremely important. According to the experience of many people who have gone before, the most suitable time to visit Luon cave is from April to June every year.
This is summer, the weather on Ha Long Bay is quite warm, with beautiful sunshine and calm sea, so traveling is convenient. In addition, going to Luon cave at this time, you can easily catch all the beautiful moments at sea and bring back a lot of unique virtual live photos.
How to get to Luon Cave?
Nowadays, traffic is growing, so it is easier and more convenient to move from one place to another. In particular, with the places with many famous tourist destinations such as Ha Long, the traffic is more heavily invested.
Therefore, to move to Luon cave is not difficult, you can choose one of the following two ways:
Option 1: From Ha Long city center, it takes about 10 minutes along National Highway 18 to Bai Chay ferry, then take a boat or rent a boat to Luon cave. Note: the time to visit on the bay is from 6:30 to 18:30, the time of the boat / boat to visit is from 6 to 8 hours. Therefore, you should pay attention to time to rent a boat / boat to visit as well as return to the mainland in time!
Option 2: If you are afraid to prepare as well as take time to consult and book an appointment, you can choose to go with a tour or book a cruise with a fixed schedule. Most of the parties that organize Ha Long tours have a point to explore Luon cave. You just need to book a tour and all other matters the tour operator will prepare for you.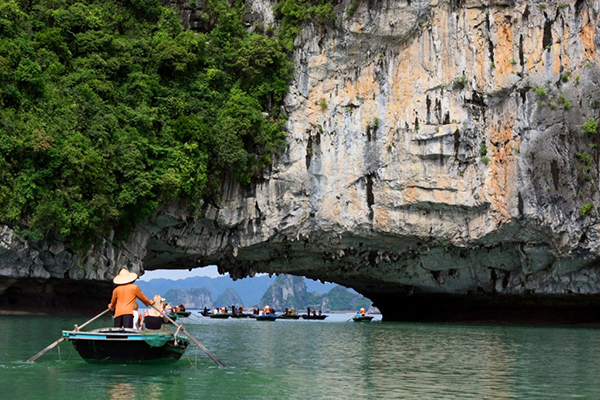 What activities in Luon Cave in Quang Ninh?
Kayaking
If you want to have a new experience, want to be in harmony with nature to touch the sea water or observe the stalactites under the dome of Luon cave, do not miss the experience of kayaking.
Take a boat to discover the natural beauty of the poetic Luon cave
Taking a boat to discover the beauty of Luon cave is a suitable suggestion for large groups. You will have a ferry driver to accompany you, comfortably chatting and listening to the boat driver tell interesting stories here.
See the golden monkey – the messenger of Luon cave
Watching funny yellow monkeys is one of the interesting experiences that attracts a large number of visitors from children to adults.
On the cliffs around Luon cave, there are about 50 golden monkeys climbing. If you enjoy this activity, don't forget to bring a camera with wide lens and binoculars to aim and capture unique photos.
Notes when visiting Luon cave
To help your visit to Luon cave to the fullest, please note the following notes:
Clothing: Because coming to Luon cave, you have to travel far but have water activities, so you need to prepare light clothes, sports shoes, sandals, swimwear or waterproof clothes to move comfortably. Do not forget to bring a full range of sun protection items: sunscreen, wide-brimmed hat or sun shirt because mainly outdoor activities
Prepare a compact bag, you should bring a garbage bag to preserve the landscape for the cave; phone, camera to have beautiful photos
In order to save costs and not be "challenged", you should negotiate the price of the boat or boat before starting the excursion or sightseeing journey.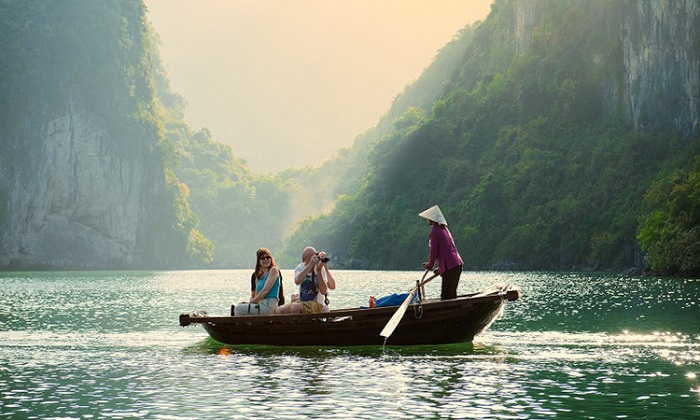 Luon Cave is really a destination worth exploring in the travel itinerary of Ha Long, Quang Ninh. Hopefully, the sharing in this article will help you have more experience for your upcoming trip.