Ti Top island is located about 14 kilometers to the east of Bai Chay tourist harbor. It has a beach that is shaped like a crescent moon and known for its tranquillity and beautiful still blue waters. The sands of the beach have been dyed white by the ocean's surf creating a perfect picture of paradise.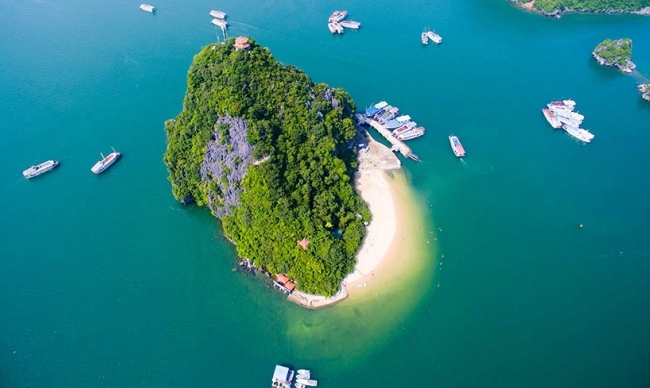 Location
Titop island is the most beautiful island in the Halong Bay area, about 7km from Tuan Chau harbor and 14km from the Bai Chay area. The crescent-shaped island faces Bo Hon island with the renowned Sung Sot cave.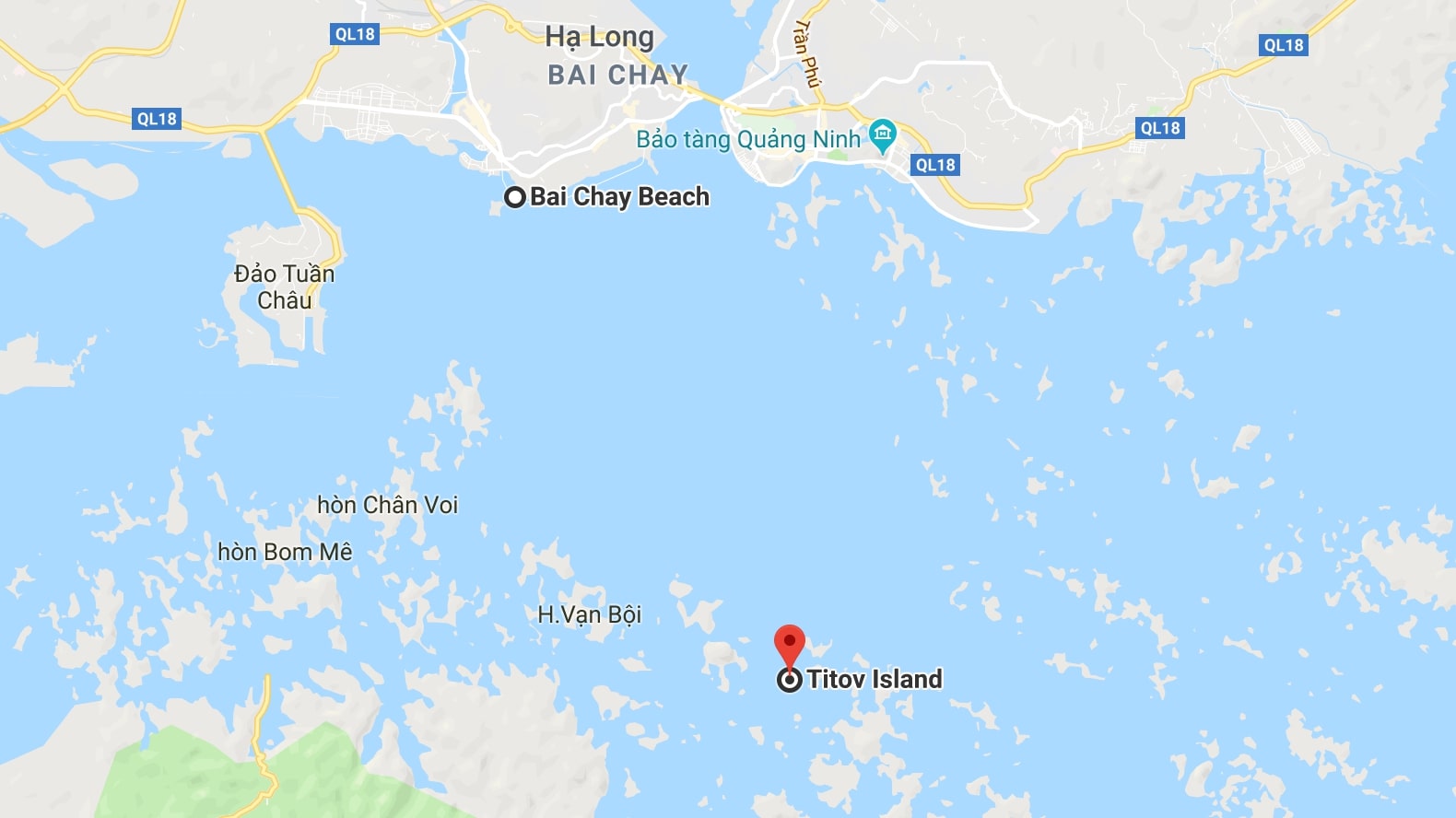 Best time to visit Titop island
Titop island can be visited all year round thanks to the availability of day and overnight cruises in the Halong Bay area. If you don't mind domestic crowds during summertime, you can take a cruise tour to the island in April, May, or even June. July and August are normally less preferable because of the stormy season.
The peak season for international travelers is from September to March with cool weather and clear skies. The bay is also not as touristy as in summer so you can have plenty of spaces to soak up a peaceful and fresh atmosphere. The only downside is that you may not be able to enjoy swimming and other underwater sports.
The name
The island was named after the Russian cosmonaut Gherman Stepanovich Titov who, together with President Ho Chi Minh, visited the island in 1962. Titop island has since become a popular tourist destination and provides many services catered to tourists.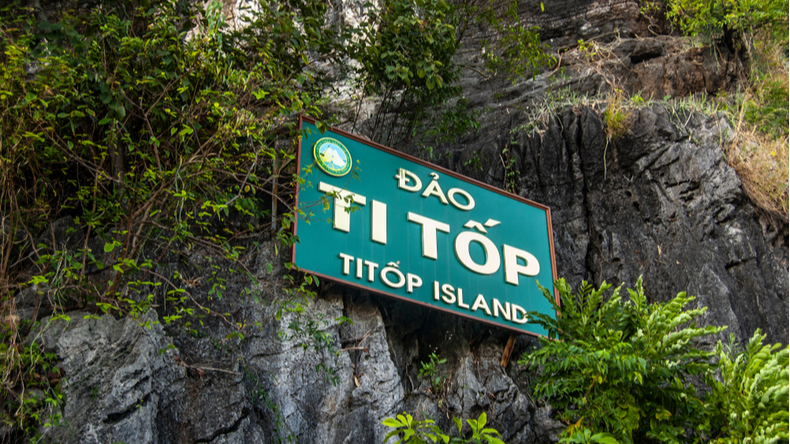 Activities
Titop island gains popularity not only for its mesmerizing beauty but also as a haven for a number of activities such as swimming, sunbathing, kayaking, mountain climbing, and water sports.
Swimming and sunbathing on Crescent beach
Because of the immaculate white sand and the calm waters, the beach is perfect for water-based recreational activities like swimming, sunbathing, and playing other water sports. Full services and gear for activities are also provided so you can freely enjoy all activities.
Drinking and relaxing on the beach
There is a bar on the island where you can rent all kinds of swim gear and, of course, stop for a few drinks if you're that way inclined! Deckchairs are available but you will be asked to buy either some food and/or beverages. If you take your own, then you will have to pay a little fee. The beach offers welcome refreshments in the hot summer months and even after sundown you can go for a walk and enjoy the moonlit beach for all its nocturnal glory.
Mountain climbing
Climbing to the top of Titop island is another not-to-miss activity for youngsters and adventurous travelers. After nearly 30 minutes of climbing, you will have a panoramic view of Halong Bay and breathe fresh air.
Teambuilding activities
If you travel with your colleagues on an incentive trip, it is great to hold teambuilding activities such as beach volleyball and beach soccer in the beach area.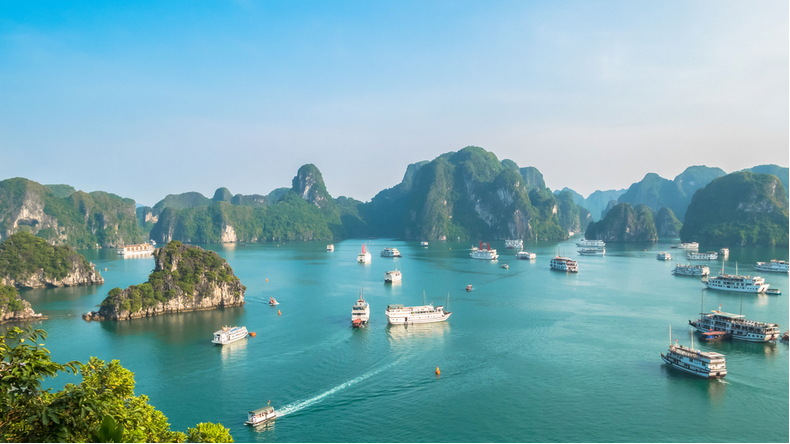 How to get to Titop island
Since Titop island is a primary tourist destination in the Halong Bay area, there are a number of options to visit the island including taking a day cruise, an overnight cruise, and a seaplane tour.
Take a day cruise tour
It is noted that there is no option to visit only Titop island because it is included in the sightseeing route 2 along with Sung Sot cave, Luon cave, Fighting Cock islet, and so on. This is also the most popular sightseeing itinerary for visitors to Halong Bay.
The day cruise tour to Titop island departs from Tuan Chau harbor. You can buy a ticket directly at the ticket counters or book a day tour through travel agencies. The whole trip takes around 6 to 8 hours depending on the length and cruise you choose. A shared-day cruise on route 2 costs about 770.000 VND/pax.
Taking an overnight cruise
If you are a first-timer to Halong Bay, you should not miss the option to embark on an overnight cruise and experience both onboard and offshore activities. Cruise lines with itineraries to Titop island are numerous ranging from budget to luxurious ones. Some most notable cruises with excursions to Titop island are the Paradise Elegance cruise, Paradise Grand luxury cruise, Bhaya cruise, and Au Co cruise. The rate of a one-night stay on those cruises ranges from US$120 – US$180/room/night.
Taking a seaplane tour
Recently, a seaplane tour is an interesting way for many tourists to visit Titop island and the whole bay. From an altitude of 300m, you will have a mesmerizing view of the bay from different angles and capture the most beautiful photos. The cost of a seaplane trip is from 1.500.000 VND – 2.000.000 VND (US$62.5 – US$83) per person.
Local tips
Titop island is a not-to-miss attraction for anyone to Halong Bay. So in order to have a great visit to the island, you should have a look at the following tips for a well-rounded preparation:
Deciding departure dates is important because the price to visit the island and services can differ between peak and off-tourist seasons.
In fact, Titop island is best to be visited in summer as you can immerse yourself in cool waters and sunshine skies.
Booking the cruise in advance to avoid overbooking and price rise, especially during the high season.
You should avoid traveling during storm season and check the weather forecast before traveling.
Packing essential items like sun hats, sports shoes, sunscreen, swimsuits, insect repellent, and suitable