We all know that Ha Long is one of the new seven natural wonders of the world, with breathtaking scenery, thousands of caves and limestone mountains, along with hundreds of attractions. Famous attractions such as: Trong Mai Island, Lu Huong Peak, Sung Sot Cave, Ti Top Island, Bai Chay, Sunworld amusement park… Therefore, Ha Long becomes a destination that can not to be missed by all visitors when coming to Ha Long. Vietnam.
However, when mentioning to Ha Long, forgetting to mention one of the following specialties is an extremely shortcoming, Ha Long is not only blessed by nature in terms of scenery but also the specialties. There are some dishes that you should try or buy as gifts when coming to Ha Long and squid Cake is one of the quintessences of Ha Long cuisine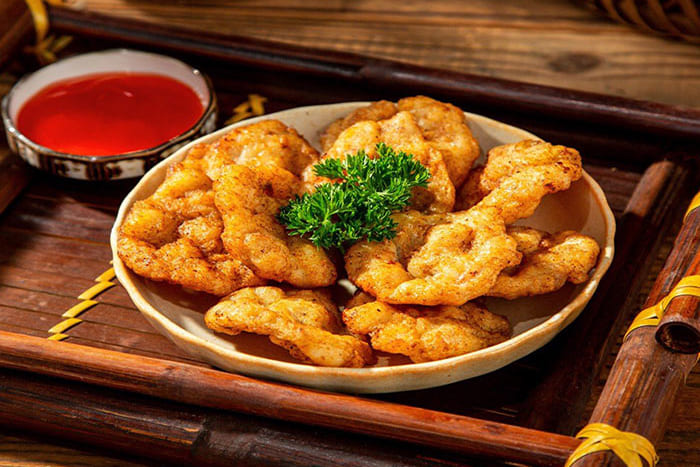 Squid Cake (Grilled Chopped Squid), which seems to be a simple dish that can be made anywhere, has become a "food monument" in Ha Long because the squid here has a sweeter taste and is meticulously "handled" by the craftsman. Enjoying the dish, you will feel the rich taste, the crunchiness of the squid in each piece.
Ha Long squid cake is considered to be better than squid cake in other regions. Because squid in Quang Ninh is sweeter than squid in the central and southern seas. The most special thing to make this squid cake dish must be shell squid; thick shell still has tiny dots on the squid shell. Only squid caught in Ha Long Bay can have such a delicious taste. It is only squid cake which is made by hand, showing all the quintessence in the delicious taste of the dish. When being grinned squid must not be grinned too thoroughly because if yes, when eating it will be bored. If the grinning is not enough, it will make you feel bad.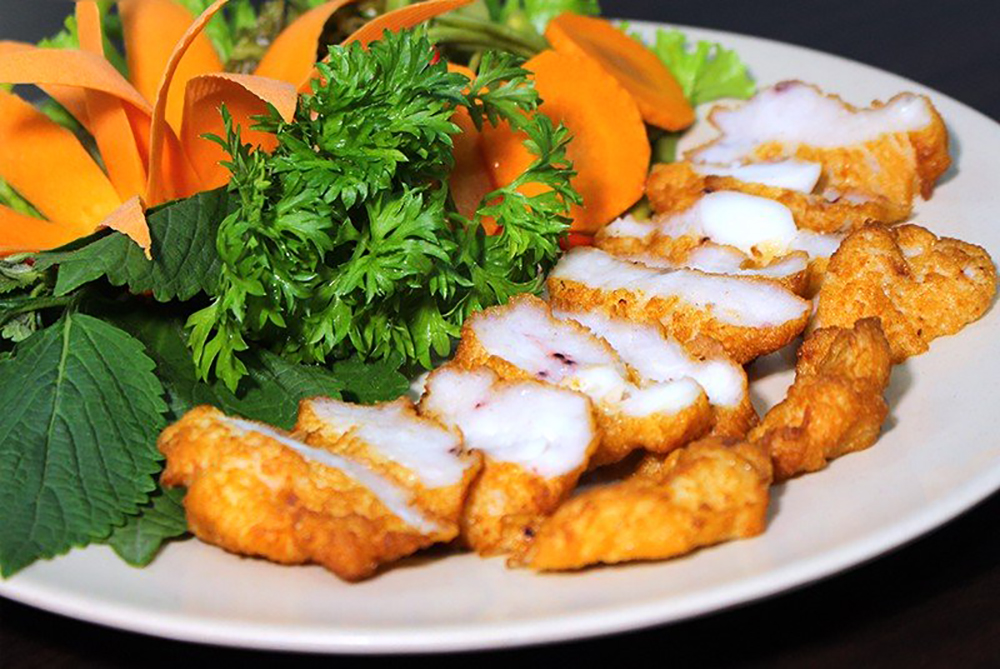 Sophistication and meticulousness are the essential requirements of this dish. Squid is cleaned and cut into small pieces and pounded in a stone mortar. Squid is pounded slightly tangled enough to create adhesion and feel lumpy when eating. The piece must be crispy, not too chewy or too friable. The combination of pepper and fish sauce has created a unique thing for Ha Long squid cake. It is because of the sophisticated way of making it that people are divided into many different types of squid cakes such as hand pounded squid cakes, ground squid cakes. With hand pounded squid cake, the price is always higher than that of ground squid cake. The traditional hand pounded squid cake is the pinnacle of culinary art here. Enjoying the squid cake will make you feel the sweet taste, without any impurities. To eat Ha Long squid cake with the right taste, people often eat it with white sticky rice. The aroma of sticky rice mixed with the sweetness of squid meat creates an extremely attractive attraction for diners.