Ha Long Bay is known as one of the most attractive destinations in Vietnam. Tourists visit Halong often choose an overnight cruise, but for those who do not have much time and conditions to explore everything, a one-day Halong cruise package is the best choice . And the biggest advantage of the day cruise is that you can both save time, save expense and still be able to visit all the attractive tourist attractions like overnight cruises. When booking a one-day cruise package, visitors will not need to worry about the means of transport to Ha Long, because the tour package always includes the task of picking up and seeing off from Hanoi. In this article, Arcady Travel would like to introduce to you in the top 5 most popular luxury day cruises in Ha Long:
Arcady Luxury Cruise (5-star service standard)
Arcady Luxury Day Cruise is launched in December 2021 to serve the return of international tourists to Vietnam in 2022. Known as one of the first yachts to provide 5-star service on Halong Bay to tourist during the day, in order to bring more advanced experiences than previous traditional cruises. Designed on an area of more than 200 square meters of each floor, the wood-paneled interior creates a cozy and elegant feeling. The restaurant is spacious with 2 high-class buffet counters, airy, ensuring private space when guests enjoy meals and relax with beautiful scenery on Ha Long Bay. The 3rd floor is designed for amusement and sightseeing area with a height of 12 meters above the sea, this is definitely a place that will bring a wide and panoramic view of Ha Long Bay, also where you will fully witness the beautiful moments of sunset and sharing memorable photos of your trip to friends and others.
With a team of professional, enthusiastic and friendly staff serving during the cruise, it will definitely bring different emotions to your one-day journey to visit Ha Long Bay.
This is the 5-star cruise which is chosen by almost international tourists because of the best prices among luxury cruises in Halong Bay and the impeccable service quality proven with thousands of reviews on Tripadvisor.
  Reference price for 1 day trip: 60 USD/ Adult
Jade Sails Cruise (Premium 5-star service standard)
Designed in the exquisite sailboat style, JadeSails is a luxury cruise that visitors will not regret for a day tour in Halong – Lan Ha Bay.
The contemporary elegance is reflected through the open design with a range of luxurious furniture and modern amenities, inviting you both to indulge in extraordinary nature and experience outstanding comfort. There are 2 restaurants, a lounge bar & cafe, a swimming pool, bar, spa, gym on JadeSails to meet your leisure and recreation needs. If admiring Halong – Lan Ha Bay from the full-length glass windows from the dining area is not enough, laying back on a comfy sunbed on the sundeck with a glass of iced cocktails on hand is unbeatable.
JadeSails not only brings top-notch facilities but also satisfies you with caring service. Every single request is paid attention to, from your food diet to a well-arranged limousine transfer or a special event celebration. Just raise your needs and the dedicated and professional team is always willing to support you.
Last but not least, the well-selected itinerary on JadeSails is something you do not need to worry about. The 8-hour cruise includes the untouched route from Halong to Lan Ha Bay where you can witness the small and giant limestone rocks, swim in the crystal water, kayak through the pristine cave, or watch the fishing boats on the bay. That is not to mention a cooking class and sunset party onboard which will make your journey even more enjoyable and memorable.
Reference price for 1 day trip: 120 USD/ Adult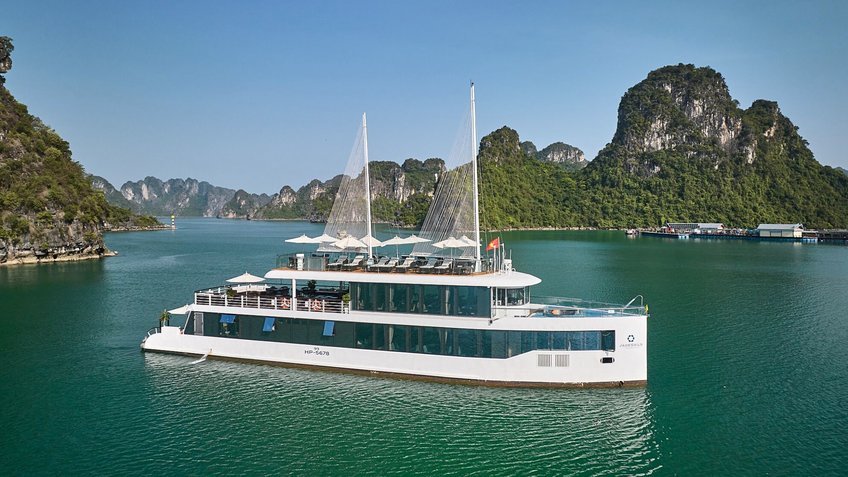 Ambassador Cruise (5-star service standard)
Launched in February 2023, Ambassador Day Cruise is the largest and one of the most luxurious day cruises in Halong Bay. Featuring spacious 360-degree twin sundecks, 2 deluxe restaurants serving sumptuous dishes from Asian and European cuisine, an outdoor jacuzzi pool, and well-equipped cabins, Ambassador promises a second-to-none day cruising experience in Halong Bay.
Ambassador Day Cruise not only provides travelers with an attractive route with signature attractions such as Sung Sot Cave and Titov Island but also ensures a high-quality service from a well-trained and dedicated crew team.
Reference price for 1 day trip: 120 USD/ Adult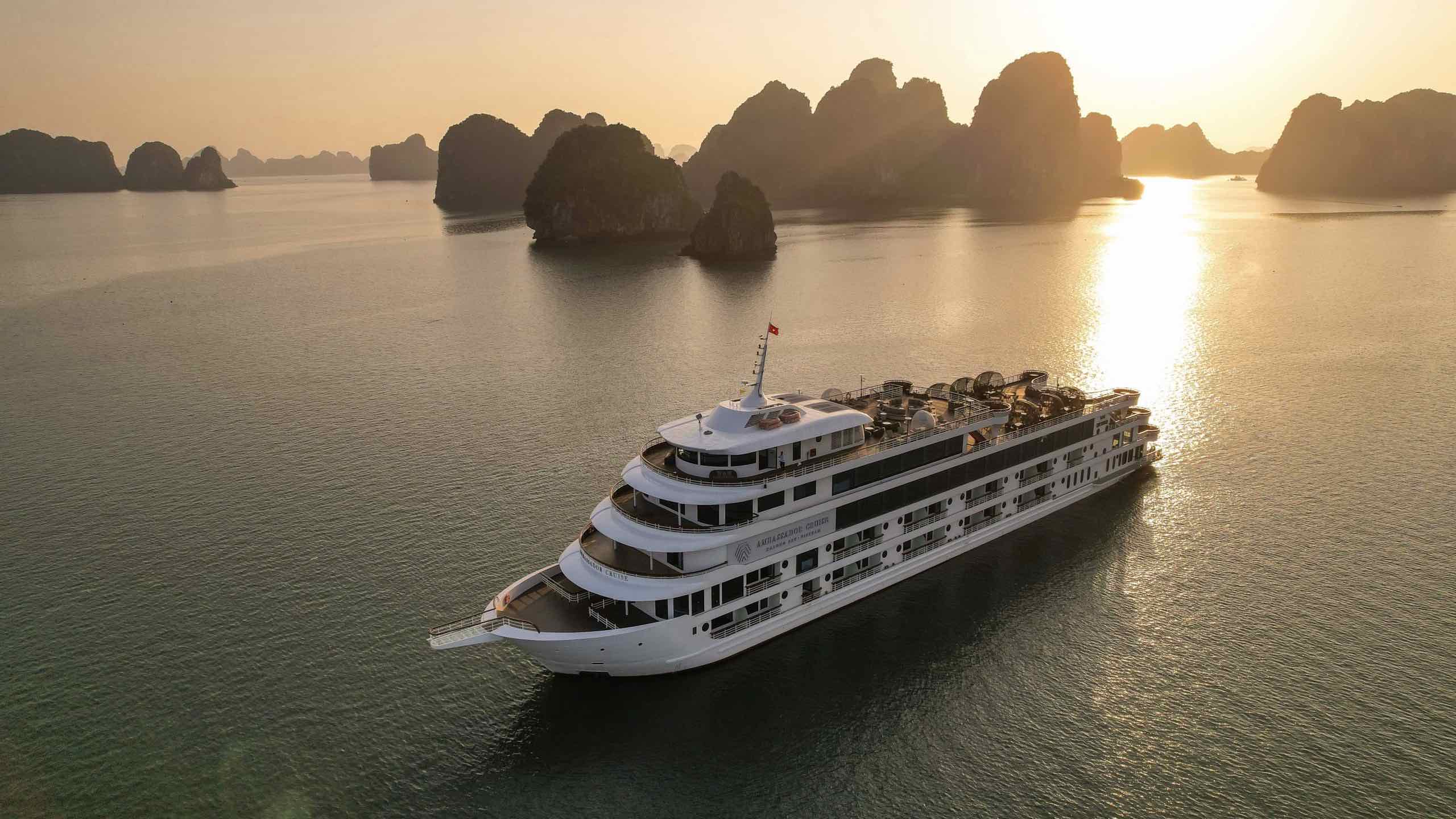 Paradise Delight Cruise (Premium 5-star service standard)
Paradise Delight is a 5-star yacht managed by Paradise Group, the most reputable cruise brand in Northern Vietnam. It was launched in June 2021 in Halong Bay and is the only day-cruise yacht on the bay offering a kid's club and a unique route passing 17 highlights of Halong Bay and the city in just a 3-4 hour journey.
The huge yacht has an area of over 1,000 square meters, 3 decks, and a capacity of up to 360 – 400 diners. The restaurant is open twice a day, from 10:00 to 14:00 for lunch and 18:00 to 22:00 for dinner. It offers an ideal place to host special events, meetings, or weddings, as well as to escape the bustling city and enjoy some sightseeing.
Reference price for 1 day trip: 110 USD/ Adult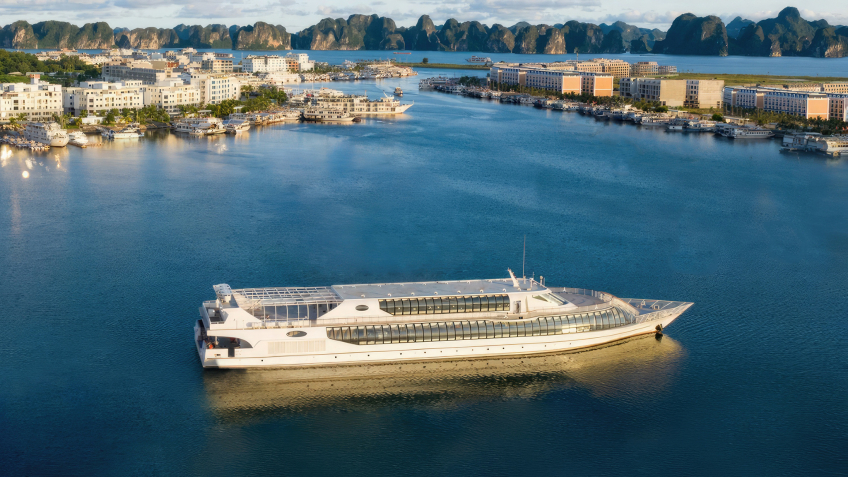 La Casta Cruise (4-star service standard)
Accommodating up to 79 guests, La Casta Daily Cruise is one of the newest day cruises offering 8-hour itinerary in Halong Bay. Not only providing a featured itinerary to the most striking points of Halong Bay, the cruise enhances cruising experience with a modern jacuzzi pool, a restaurant serving seafood and Vietnamese cuisine, and a spacious sundeck with sun loungers for relaxation.
The cruise brings you to the largest cave of Halong Bay – Sung Sot Cave, the famous island for top view – Titop Island, and a tranquil lagoon for kayaking – Luon Cave. Especially, With a well-trained and friendly crew team, a Halong day journey on La Casta Daily will be a highlight of your trip to Vietnam.
Reference price for 1 day trip: 80 USD/ Adult