Ha Long overnight cruise is being chosen by more and more tourists and is gradually becoming more and more popular because it will give visitors a wide range of emotions and interesting experiences such as kayaking, night squid fishing, experience the life of fishermen on famous fishing villages in Ha Long Bay, enjoy a romantic space with family and friends watching the sunset – sunrise on Ha Long Bay, where It was twice recognized by UNESCO as a world natural heritage.
Along with the development of the need to experience overnight cruises on the bay, there are also many companies providing that service. As a company specializing in organizing Halong Bay Tours, Arcady Travel has compiled to give you small suggestions to help you choose the most suitable Ha Long cruise for you. (Criteria are given below: Quality of service, equipment and facilities, cuisine, prices and itineraries…). This is also the Top 5 Ha Long cruises chosen by customers to book tours via website www.arcadytravel.com over the years.
1. Ambassador Cruise (Premium 5-star service standard)
Considered one of the symbols of grandeur, Ambassador Cruise has 47 luxurious rooms (maximum capacity of 100 guests) which is currently considered the largest cruise in Ha Long Bay (as of 2022). With a synchronous, modern – luxurious design, this will definitely be one of the best choices for you when coming to Ha Long. The cruise is designed with 4 floors with a height of 14 meters indeed with this height it will be a great difficulty for each visitor when they want to move between floors. To overcome this difficulty the cruise is fitted with a system High-class elevator helps guests easily go from 1st floor to other floors and vice versa.
In addition, to increase the uniqueness as well as the elegance and to meet the maximum needs of customers, so a rather large swimming pool with an area of ​​6m x 2.5m. is located on the 4th floor ( sundeck ) of the cruise. This is truly an ideal place for you to enjoy relaxing moments and fully immerse yourself in the world natural heritage.
Reference price for itinerary 02 days – 01 night is: 4,200,000 VND/01 Adult.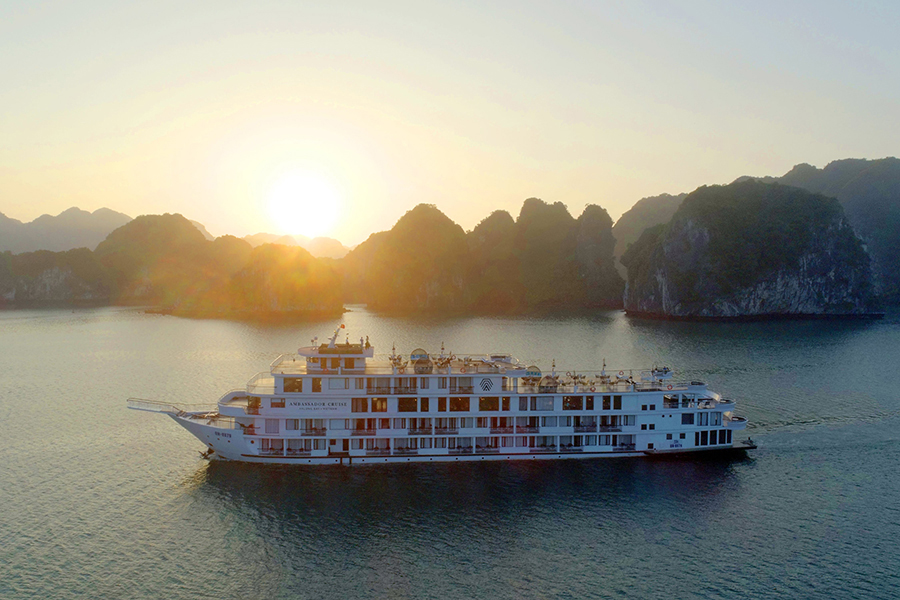 2. Arcady Boutique Cruise (5-star service standard)
Arcady Boutique Cruise with steel exterior, creating certainty and safety, fully meeting the strictest standards of the Maritime Administration and the Vietnam Registry. However, the hardness of steel is surrounded by warmth and softness and creates a charm for the Yacht from the elegant wood-paneled interior, imbued with Indochinese style, creating a very pure Vietnamese feature for Arcady Boutique Cruise.
With 24 bedrooms designed with en-suite bathrooms, all rooms have a private balcony facing the sea, this is definitely a place where you can relax and enjoy the scenery during your cruise to visit Ha Long Bay.
1st floor with 14 rooms including 10 Deluxe rooms, 2 Family Connecting Door rooms, 2 spacious triple rooms with one king-size bed and one single bed. The triple room is the only room on the ship that does not have a balcony, but still has a large window overlooking the sea.
The 2nd floor is divided into 10 rooms including 6 Junior rooms, 3 Suite rooms with Jacuzzi and 1 president room with Jacuzzi and spacious and airy room space by 2 private balcony areas.
The entire restaurant space and kitchen are located on the 3rd floor of the yacht. The space of the restaurant is luxurious and extremely spacious with very large corridor windows facing the sea. Guests can enjoy the beautiful scenery of Ha Long Bay while enjoying a meal with delicious local dishes served at the restaurant. Wine and other beverages will be served at the restaurant's bar upon request. And moreover, after the body feels tired by the activities that took place during the day, guests can relax at the massage room with professional massage staff.
The main outdoor activities area on the 4th floor of the yacht, with an area of nearly 200 square meters, this is definitely the ideal place to share the wonderful moments of your trip with your family and friends together. This is also a place where you can observe and fully enjoy the beauty of the sunset on Ha Long Bay with cocktails and fruits, also discover Vietnamese cuisine through a spring roll teaching class, and welcome a new day with a short Tai Chi session in the early morning.
Arcady Boutique Cruise, which brings you the experience of an authentic Ha Long, is also a place where you can completely spend time with your family and friends, to temporary forget the busy life and renew the positive emotions in you.
This is the 5-star cruise which is chosen by almost international tourists because of the best prices among luxury cruises in Halong Bay and the impeccable service quality proven with thousands of reviews on Tripadvisor.
Reference price for itinerary 02 days – 01 night is: 2,500,000 VND/01 Adult.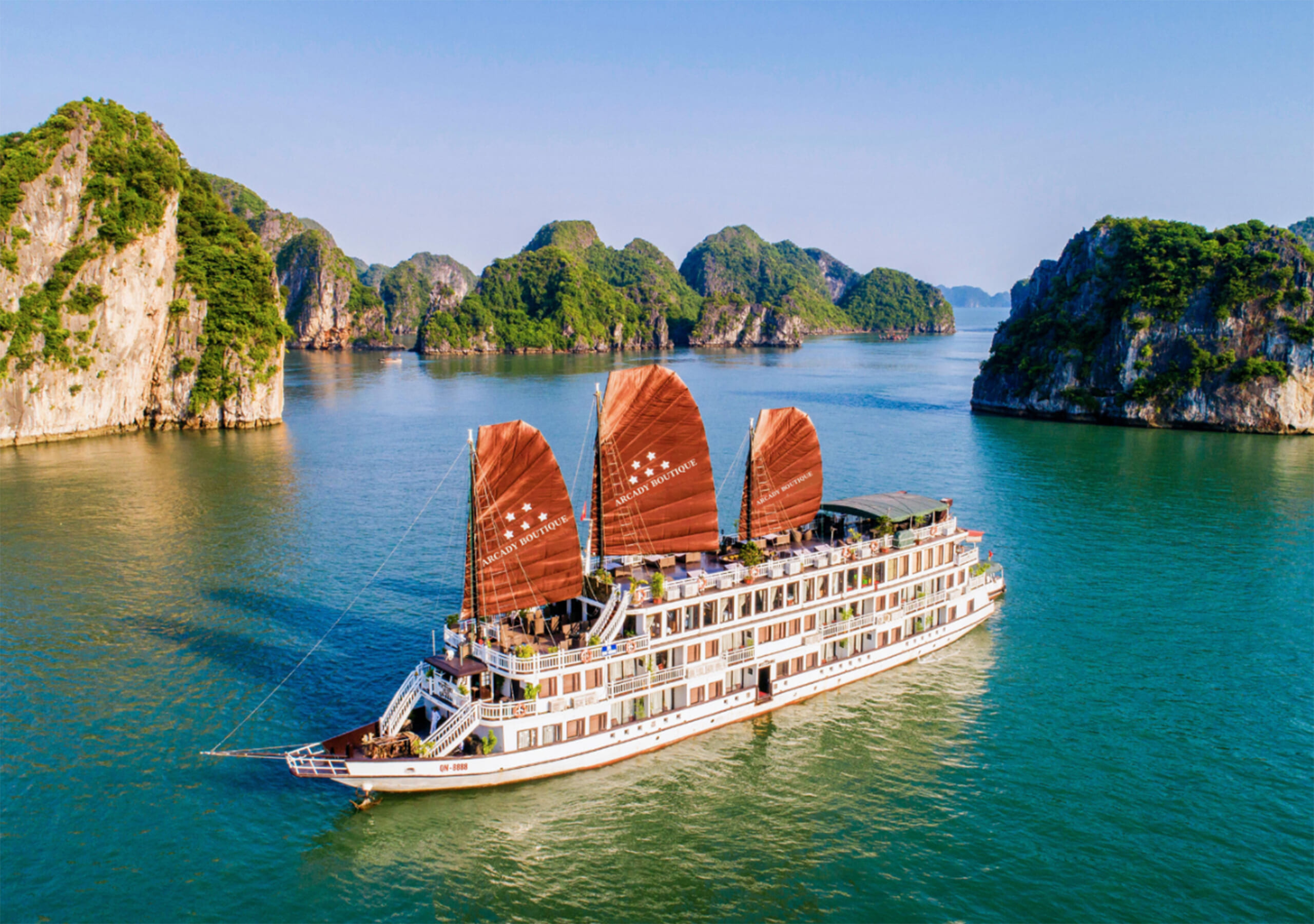 3. Paradise Elegance Cruise (5-star service standard)
Paradise brand since its inception has always been in the Top but most popular Halong cruises. With the birth of modern steel shell, Paradise Elegance cruise has proven that the service of the fleet is truly luxurious and classy – just like the folk saying "worth the money" that you have spent go out.
Indeed, coming to Paradise Elegance, you will be completely immersed in a world as its name implies, "paradise", where all the troubles of everyday life will be replaced by melodious feelings – gently when you step into this work of art. The cruise has 32 cabins designed with a width of 25 square meters with the main color being white, giving you sophistication and luxury.
Reference price for itinerary 02 days – 01 night is: 3,500,000 VND/01 Adult.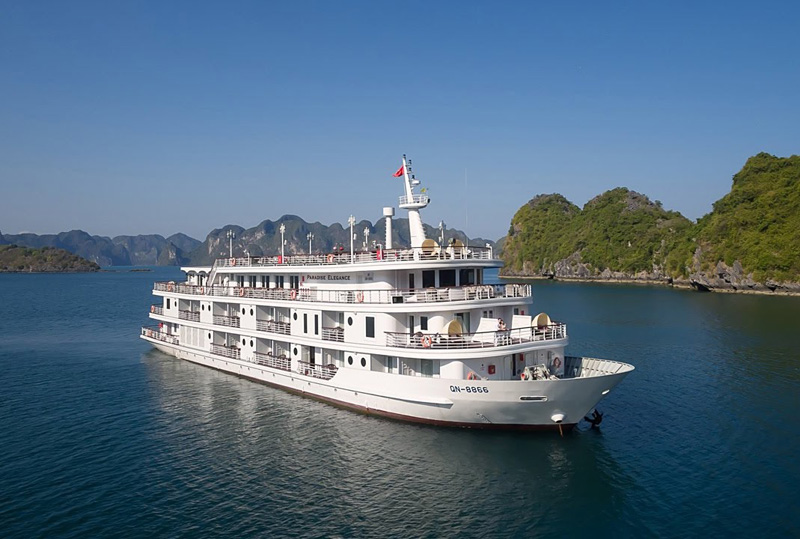 Athena Cruise (5-star service standard)
Athena Cruises is operating with two brands that are also two ships: Athena Royal and Athena Luxury.
Each cruise has 21 rooms designed in a modern and luxurious style, the rooms have an area of ​​​​about 22 – 30 square meters. If Athena Royal attracts young people by a small swimming pool creating a luxurious space for them to take pictures of virtual life like distilled water, Athena Luxury attracts guests by its sophistication and elegance. Besides, what makes visitors choose to book a room on Athena yacht is that each room of the yacht is equipped with a TV to help you entertain in your free time or each bathroom is designed with a swimming pool. Jaccuzi jacuzzi…
Reference price for itinerary 02 days – 01 night is: 3,400,000 VND/01 Adult.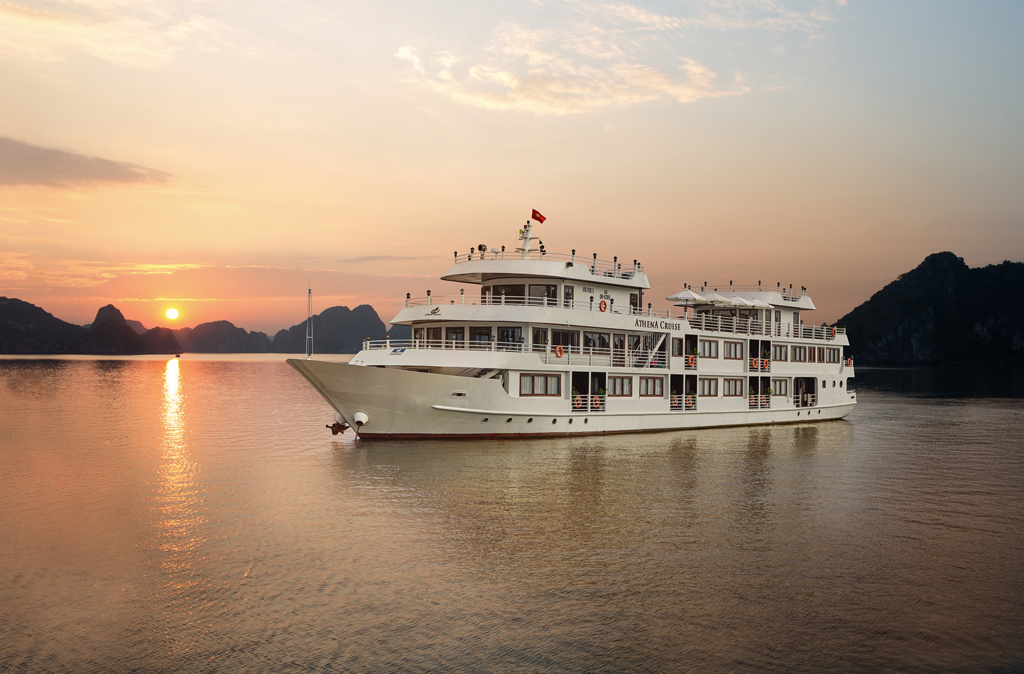 Starlight Cruise (5-star service standard)
Starlight Cruises is designed according to double bottom double bottom technology, providing absolute safety for those who are still worried about their bay journey and above all, with a sophisticated and luxurious design that makes tourists feel comfortable. Guests feel like a high-class hotel on Ha Long Bay with 32 luxurious rooms. All rooms are designed synchronously and luxuriously, the most prominent of which is that all rooms are installed with double Jacuzzi tubs, where guests can both relax, have a gentle skin massage, and enjoy the bay view if you open the bathroom curtain from the jacuzzi…
Reference price for itinerary 02 days – 01 night is: 3,200,000 VND/01 Adult.